Stay connected to your home or business from anywhere. The mySafeTouch app makes it easy to manage your home security system or monitor your business security system with everything connected into a single, intuitive interface. Trusted by millions, the mySafeTouch app integrates your security system, connected devices and more into a reliable, easy and smart experience.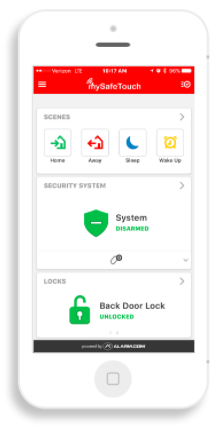 Remote features:
• See what's happening at your property
• Arm or disarm your security panel
• Watch live video and recorded clips from your security cameras
• Turn on or off lights
• Set the ideal temperature
• Lock or unlock doors
• View images of important activity captured by Alarm.com image sensors
• Search your complete system event history
• And much more!

With mySafeTouch app, you can also receive real-time email, text message, and push notifications for the specific events that matter to you. Beyond important emergency related events, you can also immediately know when:

• Your kids get home from school
• You left for work or vacation and forgot to arm your system
• The housekeeper arrives or leaves
• The garage door is left open
• The dog walker or cat sitter arrives
• There's flooding or a water leak in your basement
• Your children open your medicine or liquor cabinets
• Someone changes your thermostat settings
• Your security system is disarmed (and who disarmed it)
• Someone attempts to log into your account
• And much more!
Get the mySafeTouch App



Download or update the mySafeTouch app free from Google Play.